We Are Everything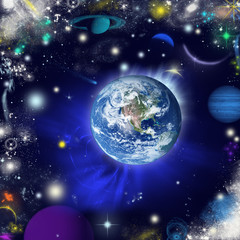 Universe -Earth, NASA picture
We are one substance
Matter and energy,
Differing forms of the same thing.
We are one age.
Out of the substance of the universe
We are formed anew from what existed
Since the beginning of time.
We are star children.
The literal transformation of  light
Into thoughts, feelings and physical form.
We are one life.
Plants and animals,
we are part of and dependent upon
the total that we are.
We are one people.
Though we may differ in culture and colour,
In the core of our being we are all the same.
We are part of the process
Of the universe knowing itself.
We are the light of stars looking baçk at ourselves,
as we ponder the future
it is our destiny to Create.
Jim Bell, in the newsletter, Timeline May/June '97