Welcome to the site Training Ecological Leadership, a path of growth and guidance for deepening  Eco-Awareness and Eco-Spirituality.  Offering  you an introduction in basic ecological awareness, ecological living and ecological spirituality. How can we live in a more sustainable way on the Earth?  What does it mean to be an Earth Keeper and live in such a way that we will leave an habitable planet to our children? A process of in-depth learning and growth in stepping forward as leader in our time. A help in taking up the challenge to be a light, a source of compassion and courage to move forward in this most demanding time for all life on Earth. As we try to find ways to "live with Covid" we need to find new ways as it seems that the virus does not go away and  we need to adapt our ways.
Goal of the website
This site is designed as a course and spiritual growth -path now many are searching for meaning and direction. It can bring you deep change, a new hope, new strength and joy. Hopefully this site will provide you with a solid foundation and deep passion to make the necessary changes in  your way of living on Earth now and to help others to do the same.
This website is written in English, we do have a google translate plugin ready for you. But we cannot be responsible for the quality of the translations. If unclear, please read the original webtext.
---
A response to the Covid Pandemic
Starting at the first page and continuing to the next, you find a process of guidance. This process will not leave you untouched and if you want to enter this process, you are kindly invited to do so. You can freely walk this path. It is the fruit of many years of service to the world and the Earth community. All is gift and this is my gift to you of my Wisdom years.
As I write these lines, we go through the very stressful time of the Covid 19 pandemic. It is this pandemic that shows us, that we are all together in this process. Nobody is excluded and we are equally vulnerable. How can we consequently choose life, when death confronts us from all sides? How to tap into the sea of compassion in our soul, so much stronger than fear and anxiety? We all have to address what is happening to the planet, humanity and the community of life.
In the beginning, the Covid Pandemic was often seen as a health problem. Something to deal with and then it would pass. In the meantime we find ourselves in probably the most encompassing crisis of humanity and the community of life ever. We all have to deal with the insecurity, the fear, the breakdown of ways of living and relating. Have you already discovered ways to carry on? How does your way into the future look like? We are stopped in all that we were doing. Now we together have to find "a new normal". We will find new ways of being friendly guests on our Earth.
The texts (mostly written before the Covid pandemic), still stand and yet everything has changed. We need a new seeing and being, a new language. And a new way of acting. We need new qualities and gifts for the next phase of the journey of humanity and the community of life. So let us share our insights and support one another in this time of searching. We will find new wholesome ways of inhabiting our Earth.
How to stand firm and not lose hope in the chaos and the growing intensity of suffering of the whole community of life?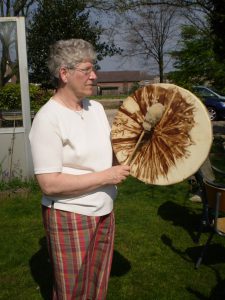 I write from my Christian background and  from wide inter-religious experiences. I have shared life with people of various religions and together we always found oneness, rooted in love and hope for the Earth. Together we care.
Feel welcome to just look around on this site and you will find your way I hope. You will notice if and when you are ready to engage in this process of guidance and deepening. Enjoy and lots of inspirations on your journey!   
Elly Verrijt
Earth Elder,  Earth Wisdomkeeper
---
Header picture credits: NASA , the Earth from Space 
Other picture: private collection.