1. Introduction to the Process (pdf)
2. Where Are You Now in the Process of Awakening?
3. Meditation: To Come Home in Love
4. Where to start: Preparing for the training
5. Other activities in the coming weeks
6. Watch these movies
7. Meditation: Basic Grounding
8. Things you can do right now
9. Your first workshop: Awakening the dreamer, changing the dream
10. Commitment to enter into the Process
11. Extra articles about the Spiritual Process
12. Daily Wisdom for this Module
---
1. INTRODUCTION TO THE PROCESS
Click here to download the presentation 'Introduction to Enter the Process' (in pdf-format). 
---
2. WHERE ARE YOU NOW IN THE PROCESS OF AWAKENING
Introduction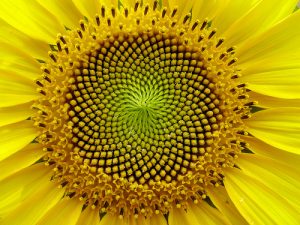 We set out on a journey. You will go to what your soul knew when you arrived in the world.  You will  learn to see again with the eyes of a child of the universe. Eyes that have explored Mother Earth and found the child again sleeping in her arms.
We will travel again to our 'bone country' (Aboriginals, The land where you bones were made) and know in a new way the land and the water we have come from. There we will be known by the Earth and hear how she calls us by our true name!
---
3. MEDITATION: TO COME HOME IN LOVE
"There is only one destination of all our inner journeys :
to come home in love and light, to the place where we have come from."
From the Gospel of Thomas
"Jesus has said: When people ask you: Where do you come from, tell them
We have come from the light, there where is light is born out of itself…"
---
4. WHERE TO START: PREPARING FOR THE TRAINING

The Introduction into Eco-spirituality
You are invited to go back to the experiences you might have had of a deepening of ecological awareness and your connection with the Earth.
Click here to download the presentation 'Web of Life' (in pdf-format).
---
5. OTHER ACTIVITIES IN THE COMING WEEKS


Write your Earth Story (Green Story)
Process
To know and cherish the intimate process of my life on Earth. To see it as a journey, a process of growth and discovery of who I am in the context of the whole community of life. To reflect upon it, see the steps taken. Cherish the wonderful interaction and guidance of Mother Earth.
To discover the uniqueness of this journey. Our ecological call. When I begin to see my own journey I can also guide others in this process.We will discover the patterns of alienation that occurred, our basic attitudes towards nature, Earth. There is woundedness there and unfinished processes of coming to awareness
image source internet
---
6. WATCH THESE MOVIES


In preparation for the training
Home
This movie shows us the becoming of our beautiful Earth, our Home. In a very intense and moving way we are confronted now with such an ongoing process of devastation. How will life on Earth go on and will the Earth still be an habitable planet in 100 years? The movie is rather long, one and a half hour. But at the beginning of this process it is good I feel to spend this time with our Mother the Earth and take in her condition. Notice your emotions and your feelings and write about your experience.
---
7. MEDITATION: BASIC GROUNDING
What do we mean by 'grounding'?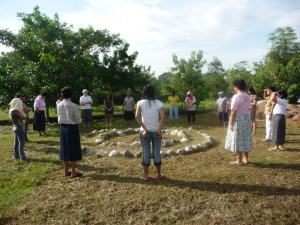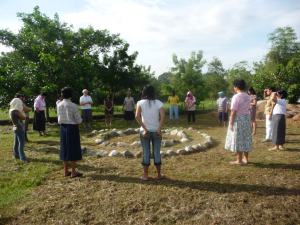 Grounding is a state of being. Often we are not in this state of being. You need to pay attention to it again and again. It starts with observing your own flow of energy. Where is my energy? Am I very busy in my head and do I forget  I have a body and my feet are touching the Earth? Am I truly centered, where is my attention and am I aware of what I am doing, feeling?
Grounding meditation in Heal, Philippines, 2011 Own picture.
---
8. THINGS YOU CAN DO RIGHT NOW
Prepare yourself for going on a deep inner journey with great emotional and spiritual challenges.
Find alleys or a group you can share with and whom you support, they will support you.
Commit to simplicity. See what you really need to face the future.
---
9. YOUR FIRST WORKSHOP:
AWAKENING THE DREAMER, CHANGING THE DREAM
This is a training activity. In  the process of your own awareness building you will learn now how to speak and explain about ecological issues. You will also learn more to see and understand  what a worldview is and how it influences your life. Our first module will be on worldview and how to help transform the worldview of the people in your programs later.
---
10. COMMITMENT TO ENTER INTO THE PROCESS
Now is the time to decide if you will enter the process. After having gone through these first steps of preparing for the process, ask your self how it is with you and if you can commit yourself to the next step of this process.
It is important to see if you have the courage and the energy to go on. See what strength and support is coming your way. Call the ancestors! Might be there is this basic feeling that this in one way or another is the response to a deep desire, a call from within.  Even if you still have feelings of hesitation, not knowing etc. Your soul will know, so ask your soul.
---
11.

EXTRA ARTICLES ABOUT THE SPIRITUAL PROCESS



Soul Journey 1
Soul Journey 2
Heart Consciousness

---
12. THE NEW STORY OF CREATION
Click here to download the presentation on 'The New Story of Creation' in pdf-format.
---
13. DAILY WISDOM FOR THIS MODULE
THE WAY INWARD
"Mysticism is the knowledge of Love. The experience of Knowing in Love. The mystical person does not have secret knowledge of God, but is known by God in a very mysterious way. The mystical person does not speak about very high experiences of God. This person knows that you cannot know God. This person knows that the empty space in the soul is filled with the presence of God. In that inner space you are invited, attracted by God. No need to fill that emptiness".
Elly Verrijt